Products providing value, reliability, safety, security, and quality
Combining over 175 years of product research and development for School Bus, Transit, Motor Coach, Shuttle Bus Industry.

1.866.424.0575
Elite is the culmination of many years of experience supplying the motorcoach industry with the very best in audio and video entertainment. REI once again raised the bar by developing the most advanced motorcoach entertainment system in the world, the REI ELITE Entertainment System
Features:

- AM/FM Receiver
CD/MP3 Player w/ Anti-Skip REI 805 for use with System 2000
- Digital Tune and Seek
- Preset up to 30 Stations
- Front/Rear Aux Input
- RCA Pre-Amp Output
- LED Backlighting
- Built in PA with Carbon Mic Input (Mic Included)
PRICE: $000.00
Call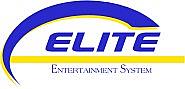 The Elite System is designed to produce high-fidelity stereo sound: whether you're listening to music or watching a movie, this powerful system is sure to please
Part No. 700227
System 2000 Digital Control Module (24V)

Features:

- System 2000 Digital Control Head allows complete digital control of audio system.
- Driver, passenger and public address audio can each be individually adjusted for optimum volume, bass and treble levels
- Unit's video section controls the video cassette player's stop, rewind and play functions.
- LED window displays current function
- A bar graph indicates relative levels of passengers' audio
- Control Unit has three public address microphone inputs and the ability to switch between internal and external speakers
- 24V operation
Part No. 700799
AMP-3000 Amplifier (Low Power)

Features:
AMP-3000
- Operates on 24V
- 25 Watts per channel (RMS)
- 2 channel MOSFET bridgeable amplifier
- Industrial grade switch mode power supply
- Full circuit and thermal overload protection
- Input level control
- Power and protection LED indicators
Part No. 710087
REI DVD Player for use with System 2000 and C-2500 Controllers

Features:

- Operates with REI System 2000 and C-2500 controllers
- Amplified Audio Output
- LED Back Lit Buttons
- Advanced Power and Audio Circuitry Filter
- 9-32 Volt Operating Range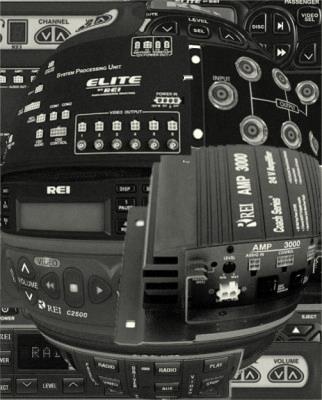 System 2000 Entertainment Video System for Your Motor Coach Applications... Manufacture by REI... Sold through Bus Radio an Video Supply. Same Day Shipping
1-877-726-4617
Manufactures Technical Support
There are several more parts for the SYSTEM 2000 we don't have posted here Give us a call if you need help or do not find what you need.
Designed to accept many of the audio and video players you have grown accustomed to with past systems. Items such as AM/FM/CD Stereo Radio, DVD player, MP# player and REI Seat Audio Headphone system can be seamless integrated with ELITE. In addition, added is the capability to handle the REI Digital Video Player, 8 channel A/V Selector, IPOD® interfaces, GPS navigation and S-video input for computer presentations. Many configurations are available. Design and layout is very important. If you are planning a new system build or need help with a existing one , please give us a call. We will help you customize your ELITE Entertainment System or troubleshoot any problem you might have.
1-877-726-4617
Manufactures Technical Support
IF YOU REQUIRE A BID BEFORE PURCHASE, SAVE TIME BY EMAILING US A LIST

contact@busradioanvideosupply.com
SYSTEM 2000 DIGITAL CONTROL PN 700227
SYSTEM 2000 AV AMPLIFIER PN 700799
AUDIO / VIDEO SOURCES PN 710152
AUDIO / VIDEO SOURCES PN 710087