REI GPS... Mount on dash or Indash... Service Departments, Mechanics, Expeditors and DIY's save everday from... Bus Radio & Video Supply

Products providing value, reliability, safety, security, and quality
Combining over 175 years of product research and development for School Bus, Transit, Motor Coach, Shuttle Bus Industry.

1.866.424.0575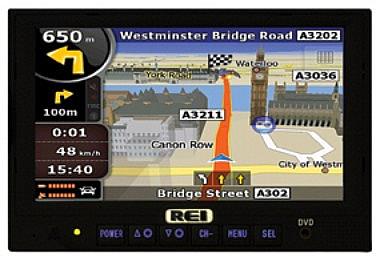 Part No. 710234
7" LCD Touch Screen Monitor

Features:

- 7" monitor with video and GPS inputs
- Features include multi-mount install options for most applications
- Automatic Exterior camera switching from turn signals and reverse
- Full Function Control Touch Screen


Includes: Pedestal Mount, C Mount & Indash Mount
- Multi-function video / GPS
- Multi-mount for all applications
- Automatic camera switching
- Driver controlled through 7" touch screen
- Turn by turn audio and visual directions
- Viewable on passangers monitors

Part No. 710237
GPS/ Media player for #710234 Monitor

Features:

- 3D GPS Graphics
- SD Media Player
- Viewable on Passenger Monitors
- Play Safty Message
- Auto Switching to Back-up System

Part No. 710214
GPS Antenna Receiver
Never lost, plan a route to your destination with ease with the REI GPS System. Mount to dash or mount indash on your commercial motorcoach with the supplied brackets. Add the Media Player for additional media for your GPS Multi-function System.



VIEW NEW COMPLETE
REI CATALOG
Call For Update Pricing